WOMBATS LONDON is hiring BREAKFAST STAFF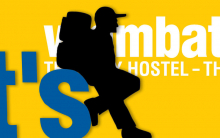 !! Wombat's City Hostel London is hiring again !!
We're searching for ambitious, super friendly, London-based early birds who'd love to work part-time in our lovely hostel!
We have an opening in our breakfast team and would like to fill it with someone who loves to get up early and knows the basic cleanliness required when preparing food for hungry (and hangover) travellers!
Payment is 7 GBP/hour and it'll be 18-24 hrs/week (shifts are either from 6am to 12 or 6.30am to 12.30...)!
If you're interested, please send you application with CV to
[email protected]
!
Please notice
You must live in the UK and be available for a trial a trail shift.
It's not a live-in position.
Wombats hostel
HOSTEL NAME
OPPORTUNITIES AVAILABLE
Job first posted: 29 May 2015