Work and live in paradise! Looking for receptionist staff on remote Isla Holbox, Mexico - Minimum 3 months.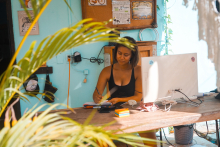 REQUIREMENTS:

- Fluent in English and Spanish (oral and writing, an absolute must)
- Previous experience in reception position
- Experience in handling a property management system (e.g. Cloudbeds, Winks etc.)
- Experience in handling cash registers
- Experience in Microsoft Office (mostly Excel)
- Excellent customer service attitude
- Willing to help where needed
- Minimum stay of 3 months (there is no exception to this)

TASKS:

- Check in/out guests
- Handle cash (charging guests, paying suppliers, square till)
- Answer emails
- Prepare breakfast buffet for the guests
- Clean hostel and do laundry
- Sell tours, beers, bikes, give recommendations
- Explain the map to the guests
- Help with decoration and organize events/activities
- Ensure high occupancy (avoid no-shows, ask manager for discounts to make sure guests stay etc)
- Other.

SCHEDULE:
7.5 hours a day, 6 times a week. Rotating in the morning or evening (07:30-15:00 /15:00-22.30).
1 day off per week as per law in Mexico. (We will make sure that you will get up to 48 consecutive hours free on your days off.

WE OFFER YOU:
Base salary of 7000 MXN per month
Commissions gained from tours and transfer sales
Free breakfast
Accommodation in a room outside of the hostel shared with the other receptionist.

The hostel is small and has a nice garden with a slackline and hammocks, a well-equipped common kitchen, hot showers, Netflix, board games and books.

If you meet all the requirements and agree with what we offer please send us your CV or more information about your experience.

We look forward to hearing from you.
HOSTEL NAME
HOSTEL LOCATION
Calle Sierra with, Calle Gerónimo de Aguilar, 77310 Holbox, Q.R., Mexico
Job first posted: 04 October 2021
Updated: 04 October 2021