Work Exchange 6 Month Program: Front Desk, Social Activities Coordinator, Housekeeping & Cook - Room & Board Included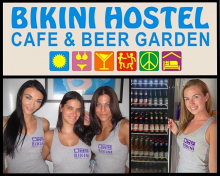 Front Desk, Social Activities Coordinator, Housekeeping & Cooks
Bikini Hostel, Cafe & Beer Garden | share happiness
Miami Beach, Florida 33139
[email protected]
305-253-9000
JOB:
This 6-month work exchange program is a full-time position to provide guests with the best, most fun and positive experience while staying with us. The front desk and activities part of the position is you becoming similar to that of a "cruise director," but on land. You will become the face, liaison of the hostel brand and associated to the guest's good times. The types of day-to-day tasks expected are socializing and to answer guest questions about amenities, directions, nearby tourist attractions and offering tour and club sales, transportation and activities to enhance the guest's experience. In short, you'll work towards obtaining a rapport with guests; planning and completing guest events, creating a safe, fun, festive atmosphere.
DUTIES:
Front Desk & Social Activities Coordinator: Be outgoing and friendly with everyone. You'll introduce yourself and interact with guests. You'll have the opportunity to sell tours and that night's open bar and party bus to the club. You would lead in also introducing guests to other guests. Match people. Make sure they are having a good time. Create and Schedule Meet & Greet Ice Breakers, activities and events for guests to mingle. Promote interaction and a positive energy atmosphere. Have games and competitions with drink prizes. Examples are beer pong, pool table competitions, board games and any others you think of. Strive to provide a memorable vacation for all.
Housekeeping: Cleaning.
Cook: Cooking.
Reviews: Establish and maintain a system to follow up with present guests, and after check out, to ensure they post positive reviews. Keep track, stay in touch with everyone via email or any social media for reviews.
Social media: Assist in maintaining all accounts.
YOU WILL RECEIVE:
All Room & Board- shared housing, breakfast, lunch, dinner, tips and commissions on clubs & tours, taxi calls, and in each review mentioning your name.
HOSTEL NAME
OPPORTUNITIES AVAILABLE
Work Trade/Exchange
Volunteering
Paid Hostel Staff
Hostel Manager
HOSTEL LOCATION
1255 West Ave, Miami Beach, FL 33139, USA
Job first posted: 18 July 2017
Updated: 27 September 2017