Work For Stay at Ocean Island Inn Backpackers Suites - Victoria BC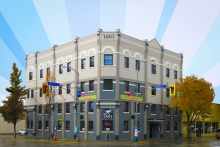 Enjoy the best of the city and country! Relax in our friendly and modern backpackers. Tour our historic city that's got everything you need in a compact center- Chinatown, nightlife, museums, cafes, shops, etc. Access to ocean beaches, fantastic forests, lakes, rivers and mountains is minutes away by walking, bikes and public transportation.

The backpackers is located in a fully renovated 1891 heritage building close to all the action of the city as well as wonderful parks the beach and hiking trails. We are a family-owned business with approximately 30 employees, and our mission is to provide a friendly and welcoming home away from home to a wide variety of travelers from around the world.

"Ocean Island is more than a hostel, it's an experience - an experience akin to being kidnapped by 100 of your closest friends...This funky, multicolored sleepover is a labyrinth of small dorms and private rooms.... There's a large communal kitchen on the ground floor and a licensed lounge for breakfast, quiz nights and live music."
Lonely Planet 12th Edition.

If you're interested in our casual workers program, we have room year-round. The jobs vary depending on our needs at the particular time, but include:

• Housekeeping (cleaning rooms, bathrooms, common areas, laundry, etc);
• Painting and other minor maintenance work;
• Gardening (seasonal);
• Translation, and Internet research;
• Let us know of any other skills you possess – we might be able to use them!

Jobs vary from 20 to 40 hours per week, depending on the type of work, how much you want to work and how long you are staying. Our most typical position is 20 hours of housekeeping a week. We ask for a minimum commitment of three weeks. All you need is to be legally entitled to work in Canada (meaning you have a valid Social Insurance Number), and be able to speak basic English. Casual work can also lead to permanent positions in front desk, the kitchen, bar, etc.

Here's what you get in exchange:
• A special discounted staff rate on accommodation in one of our dorms (we have men's, women's and co-ed), or possibly a private room (in the winter, depending on what type of work you're doing and the length of your stay). Breakfast, dinner and a nightly cocktail are also included.
• After you have paid for your accommodation, you will get $60 a week spending money (for 20 hour a week jobs) or up to $280 a week if you work more hours.
• A fun work environment living and working with cool cats from around the world.

We look forward to meeting you!

HOSTEL NAME
OPPORTUNITIES AVAILABLE
Work Trade/Exchange
Paid Hostel Staff
HOSTEL LOCATION
791 Pandora Ave, Victoria, BC V8W 1N9, Canada
Job first posted: 03 January 2018
Updated: 03 January 2018
THIS HOSTEL IS LOOKING FOR TRAVELLERS WITH THE FOLLOWING SKILLS
Hostel Cleaning / Housekeeping
Painting & Varnishing
*This Hostel is willing to provide training