Work/Volunteer in the Dominican Republic!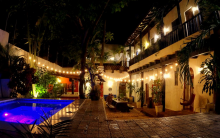 Island Life Hostel has been open over years and is the number 1 rated hostel in the Dominican Republic for the last 4 years by Hostelworld, Tripadvisor and Lonely Planet. We are looking for some new members to join our amazing team!
Island Life Backpackers' Hostel is situated in a 400 year old Colonial Building just one and a half blocks away from the famous Plaza Espana. As a UNESCO heritage building it was painstakingly restored to its original glory. 
At present we have 47 beds. We have 4 full time staff; 2 cleaners, a cook and a night security guard (and 2 dogs!) We are right in the centre of the Colonial Zone so 5 minutes pretty much gets you to all the main sights - being in the city means no beach but the nearest beach is about 35 - 40 minutes on the bus. Dominican Republic is a big island and very diverse - in your days off you can pretty much go anywhere - buses are really good and pretty cheap.
Volunteer position (Minimum 2 months)
Volunteers work on the front reception and bar. You will work 6 hour shifts 5 days a week. Your days off will be in a row.
Accommodation is included (obviously) in our 4 bed staff dorm (AC) with shared bathroom. Meals are included - 2 meals a day (breakfast and dinner) - 7 days a week, free drinking water and selected cost price drinks in the bar.
The job itself is reception/bar (it's all in one) - simple although we do expect our volunteers to work hard whilst on shift. We are looking for volunteers with lots of energy and that are very outgoing.
Supervisor position: 2 available (Minimum 6 months)
This position is only available for persons that can stay a minimum of 6 months, preferably more and that have held a similar role in a hostel environment.
The role is 44 hours over 5 days a week. Your 2 days off will be together.
Duties:
Working front desk and bar
Responsible for volunteer staff
To train new volunteers
Organize activities
Supervise house keeping staff
To assist in managing Social media accounts
Ensure food and drink are sold to maximize revenue
Maintain and ensure the rules of the hostel are followed
Essential attributes:
Willing to commit for at least 6 months
Fluent in Spanish and English
Friendly but firm
Must have common sense
Must have had a similar role or a lot of experience working in hostels
Hardworking and honest
History of working at home and abroad
Be outgoing!
What we offer:
Accommodation in our staff dorm with AC
2 meals a day (including on days off)
Selected cost price drinks in the bar
A great working environment
A chance to gain leadership experience
A free day trip excursion every month
Commission for selling tours
A local Salary (Please do not expect it to be the same as your home country, the first month wages of this is paid once completing the agreed 6 month minimum stay)
Discounted stays in other hostels around the island
This is a great opportunity to meet new people, experience and explore this amazing island! We are really looking for someone with a passion for this industry. Partying, having fun and socializing with guests is essential! Interested candidates need to email why they think they would be the right person for the position along with their work history. Please apply at
[email protected]
For the right person there might be a managerial position available in the future
HOSTEL NAME
OPPORTUNITIES AVAILABLE
Volunteering
Paid Hostel Staff
HOSTEL LOCATION
Calle Isabel La Católica 356, Santo Domingo 10210, Dominican Republic
Job first posted: 22 February 2020
Updated: 22 February 2020